Guaranteed to make you feel
empowered
with
new, exciting and proven techniques
and strategies to treat people who have sustained a stroke!


Throughout In-Patient Stroke Rehab: 14 Strategies to get your patient HOME!, which focuses on real-life patients and the impairments and complications that they have secondary to a CVA, we focus on the most common complications that clinicians face, and how to manage it. 
Issues such as: pusher syndrome, drop foot, hemi-neglect, shoulder pain, and problem-solving/safety issues, are among the common CVA after-effects that are dealt with in this course.
Special populations, such as: the younger patient; the medically complex patient; the low-level patient- and so on, are also discussed with a simple, session-by-session outline. This is designed to give every clinician a clinical pathway of how to proceed with patients!
This 0.7 CEU/7 Contact Hour course also comes with actionable, practical tools and cheat sheets that you can use to immediately put your new skills into practice. 
Check out what you're about to learn! | Course Outline
Approved for 7 APTA Contact Hours; 0.7 AOTA/ASHA CEUs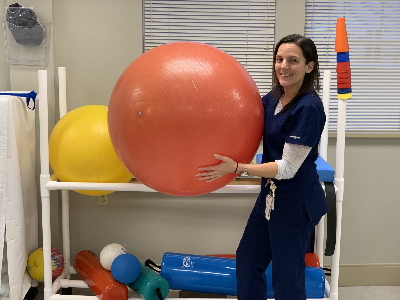 Vanessa Johnson PT, DPT, CBIS, MBA, C/NDT graduated with her doctorate in Physical Therapy with an elective track in rehabilitation in 2011.
Vanessa has worked in inpatient rehabilitation and subacute/long term care since graduating PT school. Inpatient rehab is where Vanessa found her passion for working with patients with neurological disorders, and she has focused on furthering her skills in stroke rehabilitation.
Vanessa earned her Certified Brain Injury Specialist in 2015 and her Masters in Business Administration in 2018. Most recently Vanessa earned the designation of C/NDT through the Neuro-Developmental Treatment Association. Vanessa has a passion for education and takes every opportunity available to learn a new skill, attend a new course, or go to a national conference.
When she isn't taking classes and furthering her education Vanessa loves to spend time with her young children, play with her three fur babies, and travel.
Follow Up and Online Support
After you have attended the seminar, you will have access to an online community of other therapists and professionals for support and guidance in the development of your own, in-house program.
The presenters at ARC Seminars are always available to answer your questions and provide help with your work!
Contact us here to arrange an on-site consultation, or to seek support and assistance!
Check out our other courses!